So proud to be a part of their project, amplifying unheard voices, championing survivors, and talking about things that seem impossible to talk about.
Becca Hyman – Illustrator in Issue Two
just wanted to tell you that i'm doing my Senior Thesis in school on mental health-media & the misrepresentation of so many of us that struggle with these issues & the idea that only those who have "overcome their problems" can be reliable narrators when it comes to these topics. becoming involved with Doll Hospital has been so important to me. it's changed the way i think about the worth of my voice & presence. you're doing such an important thing for me and for so many. hope you know that. xo
It pleases me to know that there are people out there willing to invest their time and their creativity into producing a journal that can not only unite people together, but also enlighten and aid those that read it. You've taken issues that can hold so much stigma and isolation and created such a visually stunning masterpiece, that almost takes the form of a comforting sister or best friend.
Bethan, Doll Hospital reader
Our comics were featured in Issue 1 of @dollhospitalmag, an art & literature journal focusing on mental health. We love what they're doing!

— The Sad Ghost Club (@thesadghostclub) August 18, 2015
I found an interview with Doll Hospital on Germ Magazine, a young adult online magazine that I'm an editor for. I thought the concept was so important, and so necessary, that I checked out the social media pages and looked into the mission more in-depth. It was then that I realized I really wanted to be involved in some way – I wanted to contribute to this project. I emailed the founder, Beth Lamont, and asked if there was any room for new help. I wanted to contribute my writing to the publication, but also to help out in any other way – publicity, social media, art direction, proofreading, web design, funding. I'm studying publishing in graduate school for one reason: to find a way to spend all of my days making a positive contribution through important content. I think that's what Doll Hospital does, by showcasing those voices who are so often silenced. And I'm extremely proud to be a part of that!
Alaina
I'd like to say thank you for such a beautiful piece of work and art. It makes me feel liberated and sad and understood and uplifted all at once, and it forces me to gaze inward at my privilege and the advantages of being white and cis. I feel understood without even knowing the people who write this stuff. Doll Hospital is so raw and honest and the refusal to end every article with a happy ending doesn't make me sad it helps me to breathe because it isn't always a happy ending, but as you say is about survival, which is often all some people can do.
L.
This is beautiful. I worked as a Hospital Corpsman for the US Navy and we have to learn for ourselves how to handle the emotional impact being sick has on others. I feel privileged to help you in this small way, and congratulate you guys for reaching your goal.
Kickstarter backer Vincent Marotta III
Reading your journal has consoled and resounded with me more than anything any friend has ever been able to offer.
Jade Davis
thank you thank you for making a space that makes sense to me. every post has me going, yes! this! i feel like you truly care about me and people like me, and not in the way my well-meaning mother tells me to go for a walk or eat less carbs when i'm glued to the bed for 36 hours, but by meeting me where i am.
Lisa di Antoni
Got my backer reward from the Doll Hospital kickstarter! How completely delightful. It even came with a mix CD with a hand-written tracklist. Can't wait to listen to it in the car 🙂
@dollhospital Beth, you gem! You and your collective have created something so beautiful and so important. I cannot wait to share these with DRCS, and to spend some time in a quiet corner later with my copy. You just turned my morning into a really happy one! Sending you all the most love.
My copy of the beautiful first issue of DOLL HOSPITAL journal arrived. In it you can find an article I wrote about possessed women in film. So happy to be a part of it !
I am so happy my copy of doll hospital has arrived! I've been feeling really low recently, I cannot wait to bundle up in bed tonight with a hot chocolate and have a read :3 p.s- I love that it's 'pocket-sized' I can take it with me everywhere! xo
My copy of doll hospital arrived today!
Ahhhhhhhhhh!!! I'm so happy this came today I super needed it. I got to write for the first issue of Doll Hospital and bernard-beth sent me this awesome care package yayyyyyy. They are literally the sweetest person :)))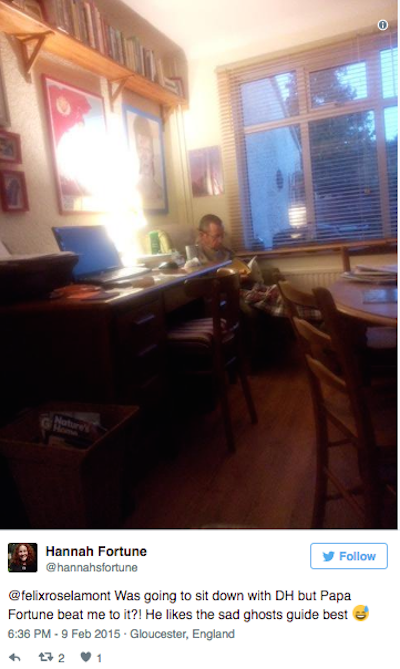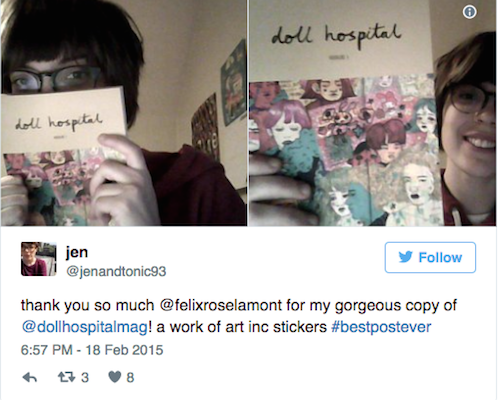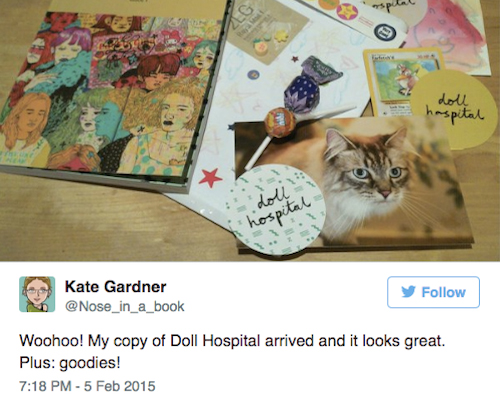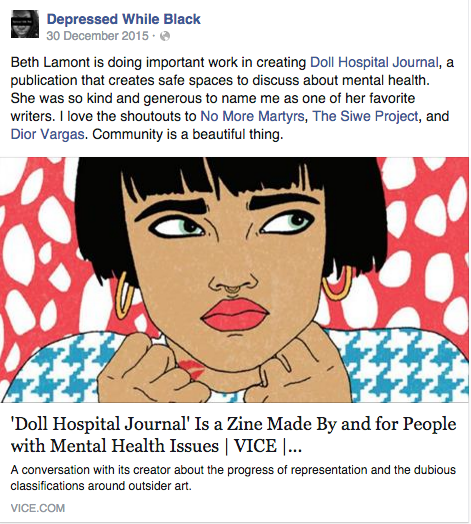 I was so delighted to come home to my very own Doll Hospital! It's been such an amazing project to contribute to and I'm so proud of Bethany and everyone involved in the making issue one. <3
M. Conlin
your work makes me feel
like i am not alone and i cant thank you enough for
that.
shona_lex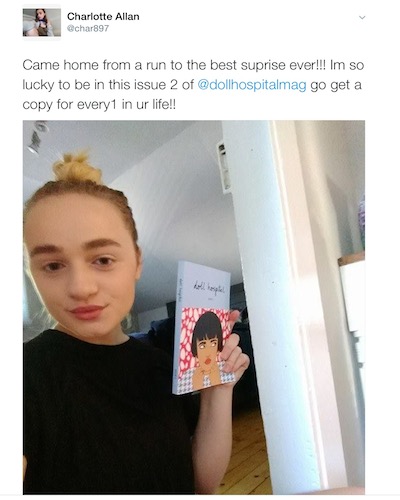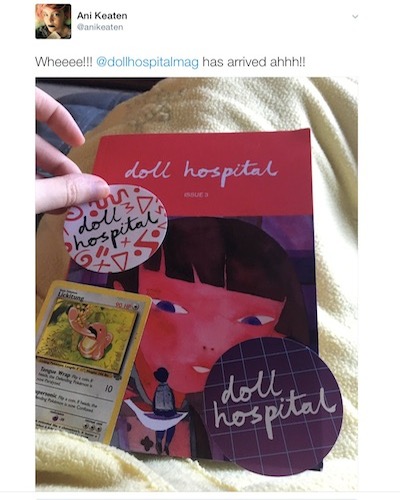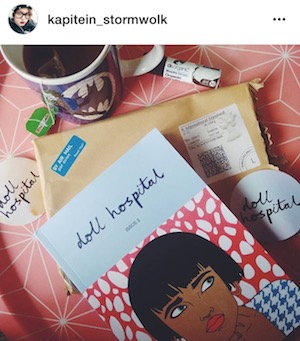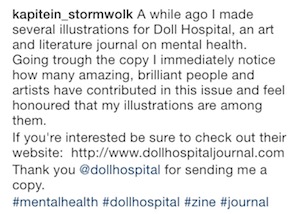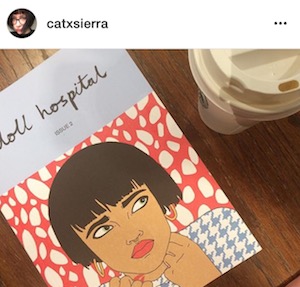 It felt wonderful holding the book in my hands. To see my writing in something so beautiful!
Krystal Monique Reddick