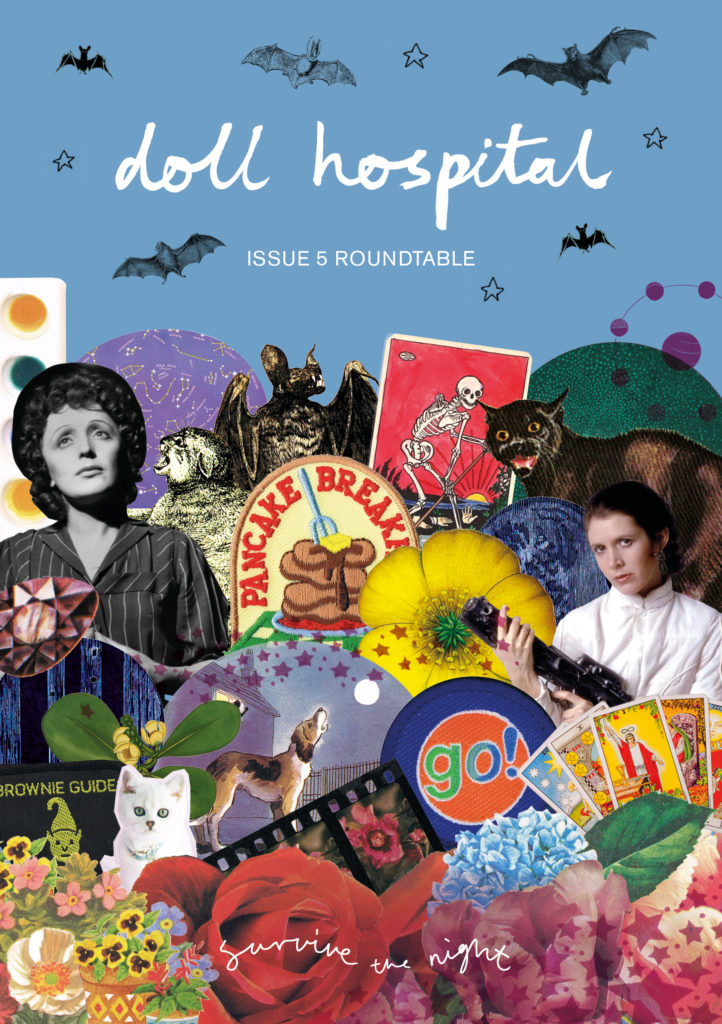 The second part of our fifth and final issue is coming soon for you in hard copy form, Saturday the 3rd of August at 10am, UK time to be exact, and we can't wait for you to see it!
To celebrate our final issue for the forseeable future we have put together a very special roundtable titled 'Survive the Night: An Endlessly Affirming Roundtable of Advice, Advocacy, Assertions and Aspirations for Storming Through Mental Health Struggles On Our Most Hopeless of Days'. And at 78 pages long, with 105 contributors, it turned out so big and beautiful that we had to release it as its own issue in and of itself!
Featuring writing, artwork and more by awesome humans such as Vanessa Willoughby, James Gaunt, Tavi Gevinson, Rudy Loewe, Dior Vargas, Cindy L. Rodriguez, Khairani Barokka, Mya Carmichael, Alaina Leary, Imade Nibokun, Hannah Rose Ewens, Stefanie Kaufman, Kailey Flyte, Simone Lia, Zeba Talkhani and countless others! Lovingly designed in full colour, this very special roundtable issue is jam packed with soothing illustrations, thoughtful writing, colourful collages and real talk. We think it is beautiful, we think it is necessary, and we hope you do too.
Plus as an extra thank you, we are throwing in a digital copy of the bumper issue of Doll Hospital Issue Five! That includes the main part of our fifth issue which is not included in this print launch. Plus a bunch of spotify mixes made lovingly for you from out editorial and contributor team!
Normally, all the profits from our print issues, and pay as you wish digital issues, would go straight back into making Doll Hospital Journal. You see, sales are our only income so previously any money raised went towards practical things like printing hard copies and posting out contributor's copies.
However, as this is our final issue for the forseeable future we don't have to worry about saving our pennies for our next print release. Not only is that a nice relief, I mean fundraising is stressful(!), it also means we can put the money we raise from this roundtable, as well as future sales of our pay as you wish digital copies, to good use!
As a result, we're very happy to say that from the 3rd August 2019 all our profits will be going towards two mental health themed organisations that are advocating for issues that are very dear to us.
The first, INQUEST which is the only charity in England and Wales providing expertise on contentious deaths and their investigation to bereaved people, lawyers, other advice and support agencies, media, parliamentarians and the general public. Its range of cases includes custody and detention, such as in psychiatric, prison or police settings; multi-agency failings; or where wider issues of state and corporate accountability are in question, such as with the Hillsborough and Grenfell Tower disasters. Working alongside those who have lost relatives, INQUEST provides advice and support to bereaved families and demands truth, justice, accountability and systemic change to prevent such deaths happening in the future.
Find out more about their work here.
The second is Trans Survivors Switchboard, a hotline run for and by trans and non binary folks in the UK. TSS offers information and emotional support to those who are struggling with experiences of abuse, trauma, crime and sexual violence. A sex worker affirming space, they are experienced with complex subjects such as homelessness and living under domestic abuse. Previously, they have provided an irl wheelchair accessible drop in space for survivors in Brighton, and donations from these sales will go towards continuing this work.
The helpline runs from 3pm to 5pm on Sundays, just ring 01273204050, and they also offer a live web chat if talking on the phone isn't your thing!
Find out more about their work here.
All hard orders are shipped in a timely manner from Bristol, U.K (so if you're ordering from farther afield please allow it a little extra time to reach you!)